A Style is the brainchild of different fashions put together and STYLEYA by Zarina Laskar infuses different fashion into unique styles and she offers a wide range of designer clothing never seen before.
Our journey started in the year 2017 with a vision to create different styles of designer clothing using the best fabrics woven indigenously in North East India. And now our vision seems to be shaping into reality as our new age designs and the traditional North Eastern fabrics have been claiming appreciation across different markets and also at celebrity fashion platforms like East India Fashion Week.
We are one of the leading organizations in this domain delicately engaged in Designing and Manufacturing the best range of products. The fabrics we use are woven by housewives of Assam and our mission is to add value to their work and life, taking STYLEYA to global audience. Our products are designed to be highly adaptable to any occasion. Currently we are dealing in all kinds of ladies wear like Kaftans, Burkhas, Designer Kurtis & Lehengas etc. & also our new collection for men has been launched. Soon, we will be launching our kids wear collection too.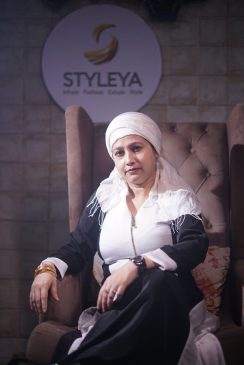 Zarina Laskar has become a brand in the past few years with her innovative and adaptable design language. STYLEYA is what they are as a person.
Zarina Laskar
Founder Proprietor
STYLEYA
She has been a go-getter since she started understanding life and thus grabs every opportunity she feels might add value to her. Her aim in life is not to sit idle like an orthodox housewife rather to keep aspiring for success independently. In the past she has put her into various job roles in different organizations to keep challenging her wit & gut as she believes there's no fun in life without challenges. Perhaps such traits and attitudes has been the fuel behind the launch of Styleya. Her fashion sense is incomparable even in her daily life say it her own OOTD's or say it her home décor everything looks beautiful and color composed. Whatever she designs is really a treat to the eyes and whatever she speaks is bliss to the mind.